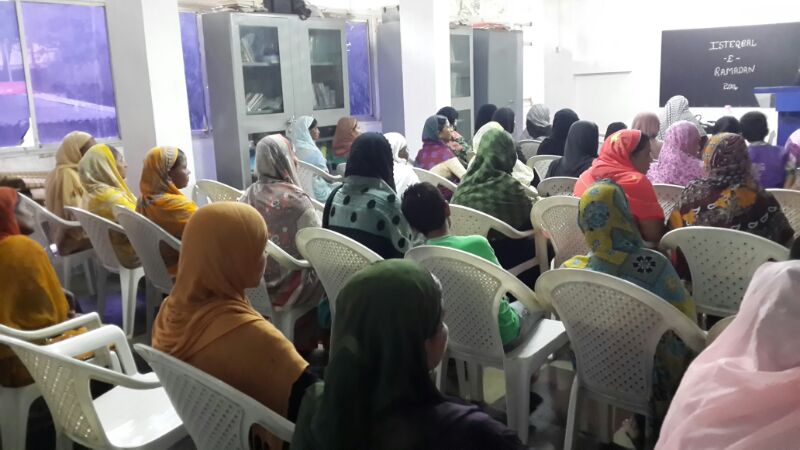 The holy month of Ramadhan is on the verge of its arrival yet again in our lives,Inshallah. To reap the countless bounties & benefits from the month of QURAN, one needs to thoroughly understand its importance & revise the same.
In this regard the women's wing of JIH margao organised a programme called "ISTEQBALE RAMADAN"on 19th June. , 2014at Sirvodem,Margao. The objective of the event was intended at awakening people's heart and mind so that the Ummah welcome ramadhan with warmth & compassion by realizing the blessings and the virtuous transformation it will bring in a Muslims life.
The Programme started with the Inaugural address at 3.15 p.m by Mrs. Tabassum, President womens wing, Margao Unit in which she highlighted the need & importance of organizing such programmes & stressed that everyone must know the virtues about the month of QURAN.
The main speech of the event was delivered by Mrs. Saira banu, President, JIH Women's Wing, Goa on fasting and zakat. The speaker explained that the main purpose of fasting is to gain self restraint as stated in the holy Quran and said that the month of ramadhan is a period of training for body and soul, the learning's of which need to be practiced for remaining 11 months. Saira Saheba in clear words highlighted the social aspect of fasting & ramadhan as Allah made fasting obligatory on all irrespective of the social status through which the rich of the society realize hunger. This feature of SAWM motivates the wealthy towards caring for the poor & being kind to the needy among humanity.
Thus, the Almighty Allah willed to equalize between His servants and to give a taste of the pain of hunger to the rich so that he becomes more lenient to the weak people and be more merciful towards the hungry one. She also focused on how to gain blessings and virtues of ramadhan by following Quran and sunnah. She explained in detail the unique characteristic of fasting. , Etiquettes of fasting, rewards of fasting and punishment of not fasting, she continued her speech by explaining about zakat ,fitrazakat and voluntary charities. Zakat is one of the five pillars of Islam, and is expected to be paid by all practicing Muslims who have the financial means (nisab). In addition to their zakat obligations, Muslims are encouraged to make voluntary contributions (sadaqat).
More than 85 ladies attended the programme which concluded at 5.00 PM with Dua.